Last weekend, around 600 people met to largest the anually WordCamp in a European city: WordCamp London 2017. This was the third year in a row I visited this event and it still is my most favorite WordCamp. I booked my ticket many weeks ago. But after the organizing needed some last minute volunteers around a month before the big event, I didn't thought twice and applied as a volunteer.
My second WordCamp volunteering
I have visitied many WordCamps, spoken on a couple of them and co-organized 3 Camp so far in Berlin and am currently the lead organizer of the next WordCamp Berlin in May. But this was only the second time, I applied as a volunteer. Being a volunteer, you not only meet new people and get in touch with many more, than as a regular attendee. You also learn a lot as an organizer. There are many things every WordCamp has in common. But especially WordCamp London sets a good example on many details. The team around Jenny Wong did a great job. Just as in the years before.
Friday: Contributor Day
Before the WordCamp started for all attendees with the confernce days, the contributor day was held on Friday at the same location. This year, I attended the Theme Review Team for the first time. As many other contributor day attendees told me, it's a perfect team for developers with a sense to code quality. I am not a designer, but am quite fluent in PHP and many front end languages. So reviewing themes made a lot sense to me. Most teams have a "Getting Started at a Contributor Day" guide to help new contributors. For all questions we had Sarah Semark and Carolina Nymark helped us out. I successfully reviewed a theme, that has been in the pipeline for a couple of month. I hope the theme author will update it soon, so it can finally go online.
After the morning sessions, all volunteers had an introduction into volunteering at WordCamp London. We were shown the venue and even though I've visited it twice before, I learned some new thing and found some shortcuts on the campus 🙂
Later, I visted a small workshop from Rian Rietveld on how to navigate a website using only your keyboard and what you as a developer can do, to make this task easier. This was very useful, as I am currently writing a new default theme for WordCamps.
After the contributor day, all speakers, organizers and volunteers were invited to a very nice place to meet each other and … play ping pong!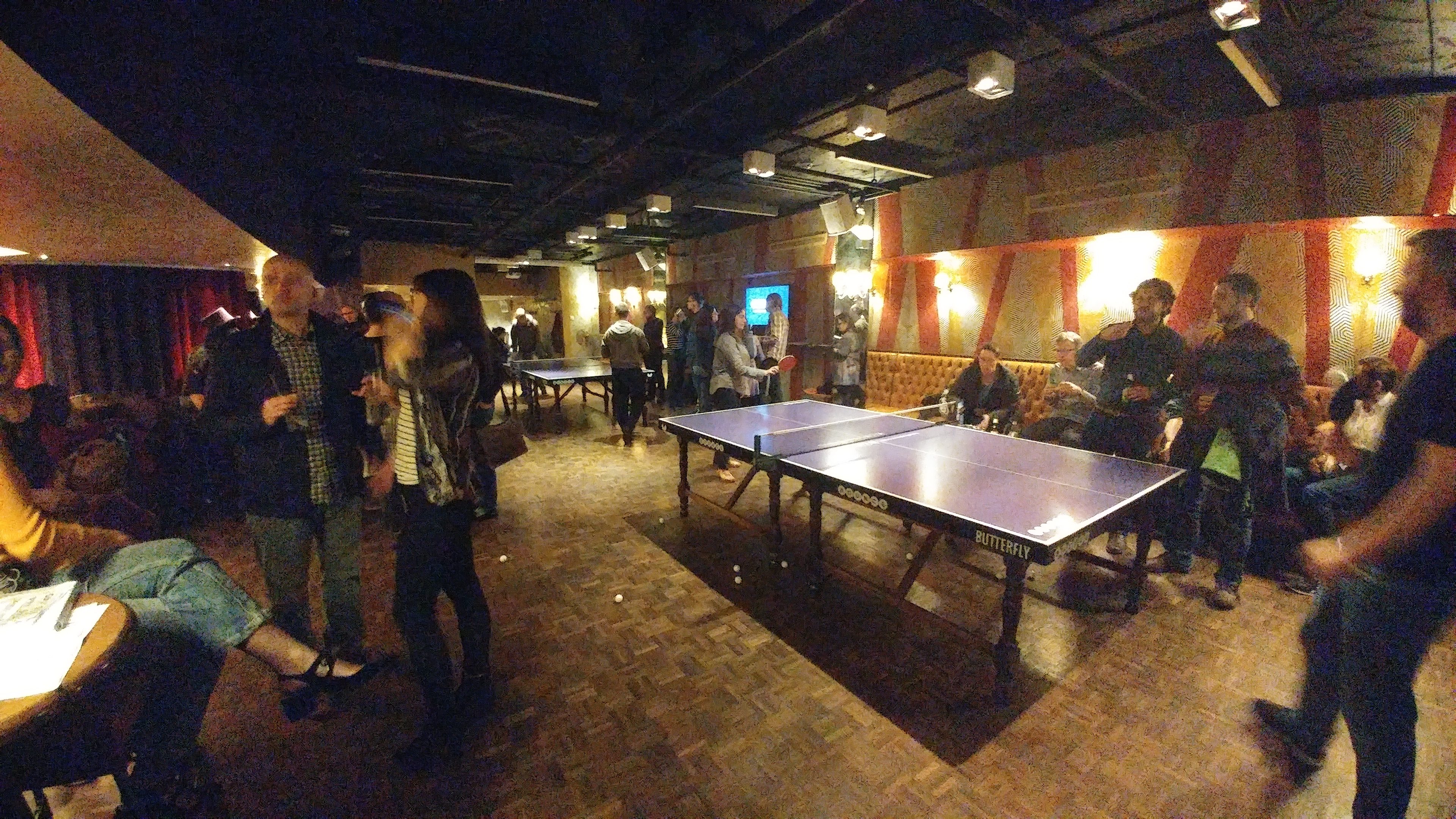 Saturday: The first conference day
My Saturday startet quite early, as I had my first shift as a volunteer at 7:30am. I had to show speakers where they could find the green room (preparation room). I missed the opening remarks, but that was OK. After those two our, my second shift started. Now I was the mic runner for track B. So after every session, I was running around the room, to give a mic to any person with a question to the speaker. This shift allowed me to see some first sessions.
Showing ROI: How to Create a Content Marketing Report
The first session of track B was held by Ilia Markov. In his session, he explained how to track the success of your website using different tools. Not only Google Analytics can be used for this. He also gave some tips to strategies on how to increase traffic.
Get Your Plugin Ready for the New WordPress Plugin Directory
The next talk was pretty interressting for me. Aleksander Kuczek summarized the changes to the new WordPress plugin directory. Not only has the new directory a different UI, it also removes some features from the current one. Like the tab "Installation" or the download links to older plugin versions. If you are a plugin developer, you should check how your plugin looks like in the new directory, which can already be previewed.
Migrating Content is Like Moving House: How Did We End Up with all this Stuff? And where does it all go now?
The last talk in my shift as a mic runner was held by Edd Hurst. In a quite funny way, he gave a good overview on the issue one might have, when migrating websites from one server to another. He doesn't only named tools, but gave a broader overview on that topic. Really a very informative talk.
The Importance of Information Architecture: How to Organise Content to Improve User Experience
When we build huge websites, we often forget to structure the data in a way, the user might expect it. In her talk, Monique Dubbelman gave some very good advices, on how to properly use information architecture, to help users finding, what they are searching for.
#A11Y and How to Sell it to a Client
Last year, I had the pleasure to see Mik Scarlet as a MC on stage. This year, he gave a great talk on how to convince a client, that an accessible website is very imporant. Not only are those people who need an accessible website a huge group with a large budged to spend. They are also very loyal, if they find a website which they can use easily. I hope I can find some similar numbers, he presented for the UK, for your German clients, so more of them are willing to pay for an accessible website.
How WordPress Malware Works and How to Clean an Infected Site
Most freelancers had at least one client, who's website got hacked. Owen Cutajar gave an overview on how a website gets affected and what that looks like. Knowing what to look for on an infected site if very important in the process of cleaning it. Having a clean backup is even more important.
Panel: How do you Build a Custom Theme?
My last session for the day was a panel with Sue Fernandes, Afzaal, Ulrich Pogson and Sami Keijonen, moderated by Jonny Allbut. They answered question about how they build custom themes for their clients.
After party!
This was day one … no, not really 🙂 The legendary after party with a great dinner, awesome people and a lot of retro games happened in "The Rocket" building. I even tried Rock Band for the first time. I was not playing an instrument, but gave my best on the microphone 🙂
Sunday: The second conference day
Thankfully, my second day as a volunteer didn't started so early. I only had to show up for the first session I wanted to hear 🙂
A Deep Dive into the Roles and Capabilities API
And the first session of the day was very interresting for me. John Blackbourn gave a very good in depth overview of the roles, capabilites and responsibilites in WordPress core and how you can use them as a developer, to build a very robust permission system.
Using Varying Vagrant Vagrants 2
The next one was also a good one for any developer, who wants to improve the local development environment. Tom J Nowell gave an introduction on the changes made to VVV in the latest version. Although I installed it just some days before WordCamp London, I wasn't aware on the useful changes made to it. This is something I want to try out in the next weeks.
Happiness Bar
Just before lunch time on the second day, I had my third and final duty on the Happiness Bar. I only had one "client", but I think I could help him with his questions and problem on his website. This was a new experience for me at a WordCamp. I never helped at the Happiness Bar or used it myself. But I really thinks, it's important to have it at a WordCamp.
Help Your Readers: Format all the Things!
WordCamp London also had some workshops and I was aksed by Francesca Marano to help on her workshop on how to format the content of a page or post properly with the visual editor. Although there weren't many attendees really working on their pages in the session, I am pretty sure that they now know how to do it.
Why and How to Use Screencasts to Train Users
When you want to explain something to a user, written text is not always the best way to do it. Especially when you try to explain how to do something in the backend, a small video is better. These videos are usually called "screencasts" and Ross Wintle gave a very good overview on how to record them. He used a lot of animated gifs in his talk to visualize things. This perfectly fitted into his talks. I hope with these new insights, I can finally start to produce some screencasts myself.
Building a Community of Open Source Intranet Users
The last session of WordCamp London 2017 I visited was about an open source system, that is used to build many governmental intranets in the UK. As I am currently developing an intranet myself for a client, it was interresting to seen, how others are doing it. Luke Oatham presented his theme and some plugins he used to add the functionality for the intranet pages.
A great start into the WordCamp season 2017
WordCamp London was my first WordCamp for this year. And like in the last two editions, it was a great time with nice people, an awesome venue and the best organizing team. Many thanks to Jenny Wong and her team. She will not be the lead organizer for next year, which not only made her feeling sentimental.
But I am very sure, that the rest of the team will made an equally good job next year. Am I visiting WordCamp London 2018? Sure! Are there tickets, yet? 😉 And if I won't be able to talk next year, I will definetly apply as a volunteer again.