I am more a web developer than an administrator. But from time to time I have to take care of my colleagues PCs. A very common task is to install or update programs. As most of the users don't have administrative rights I have to do these things as admin.
At the beginning of my admin career I used to sign of the users because I didn't know how to start programs as admin. But now I learned to right click a program and choose "Run as…" to start an installation as administrator.
But there are some files like msi-Installers that don't offer the "Run as…" in the context menu. And also the options in the control panel don't have that option. In fact they have but you can only see it with the trick I learned yesterday.
Run control panel options as administrator
The trick is fairly easy. You just have to press the SHIFT key while doing a right click on the option. You will that be able to choose the "Run ass…" option from the context menu to run a program as any user including the admin user (I am sorry, but I don't have a running XP System in English, so you have to imagine the screenshot would be English):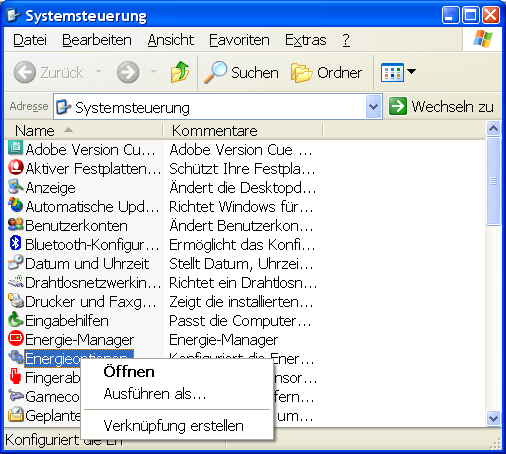 Sometimes the little things are the ones you enjoy the most. And that little trick will help me a lot doing my admin tasks.
And how about Windows Vista/7 users
If you administrate PCs with Windows Vista/7 you are probably familiar with starting each program as admin. But even for those users I've learned a nice shortcut yesterday. I usually start programs through the search of the start menu (again, sorry for the German screenshot):
Here you can easily right click any suggested program and start it as administrator. But I usually don't want to wait for the suggestions to be able to click on them. And as an IT guy I try to accelerate things as much as possible. So to be able to launch the first program in the suggestion list as administrator, you just have to use this shortcut: STRG + SHIFT + ENTER.
And the best thing with this shortcut is the fact, that you can also use it for shortcuts on your desktop. Just select a shortcut and use the same combination. Or even more elegant, just hold down STRG + SHIFT while double clicking on a shortcut on your desktop to run it as administrator. For programs on your task bar use it with a single left click.
I hope that this trick will be useful for your daily tasks as an admin. If you know any additional useful trick for admins, please feel free to post a comment with that trick.