As I mentioned in several other articles this blog running is running on a server with Plesk. For my domain I can currently specify only one e-mail address for the domain at my hoster. But since I wanted to use other addresses I took advantage of the Plesk email function.
Since all email addresses of my domain would be forwarded to a single address anyways, I still wanted find a way in Plesk and finally found it. It's failry easy to setup a so-called catchall email account. The setting, however, is a bit hidden.
Setup a catchall
First you navigate from the home page to the overview of the domain you want to create a catchall for.

In the "Services" section click on "Mail":

Here yuo can create a single email account and use it with POP3 or as a redirect. But we want to setup catchall so we click on "Mail settings":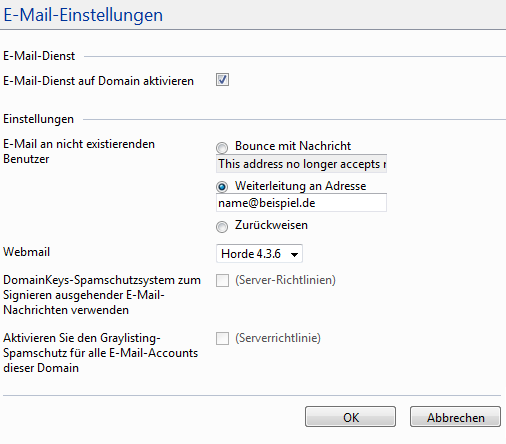 Here you will finaly find the settings for the catchall. With the catchall all emai sent to unknown addresses are being collected. Now here you can either specify an address that you have already created, or forwarded them to an external email address, as I have done.
That's it. You can now use email address on your account and the mails will automatically be forwared into your mailbox. Only if you like to reply with this address, then you have to remember to change the "from address" in your email program accordingly.
I hope that this tip was helpful and as always I would really appreciate any comments.